EVENTS ON THE RGRA RANGES
~~~
THE COSO ARCHERY CLUB
We shoot the second Saturday of the month.
Matches begin at 9:00 AM. Signups begin at 8:15-8:45 AM. If you are late we cannot accommodate!
You must be present for Safety Meeting and Shoot Instructions.
Informal open spring/summer shoots will be held Tuesday evenings from 5:30 to dark.
Start times and club information is posted on their site
~~~
The Ridgecrest Gun Range
 600 Yard Long Range Rifle Match first Saturday of every month
START TIME: Registration and Safety Meeting is 11:15 AM
SQUADDING is 11:30
SHOOTING begins at 12:00 Noon
Course of Fire:(All two sighters are convertible)
Stages are 2 sighters and 15 rounds for record in 20 minutes

Targets:
MR-1 for metallic sights and those using slings.
MR-1FC F-class target centers for those with Bi-pods or rifle rests.
SIGHTS: This is an any sight match, metallic or optical sights may be used.
Target Pullers: Competitors will pull targets or supply their own target puller when not shooting or scoring.
SCORING: Competitors will score. Any competitor failing to perform his duties may be disqualified.
ENTRY FEE: $10.00 per person ($5.00 of which goes to range fees)
Those not a member of the Ridgecrest Desert Gun Range Shooting Facility or the SDGC must sign a General Release for Liability.
AWARDS: Cash prize for: Top Fullbore (Sling), F/TR (Bipod) and F-Open (Front Rest), Points winner receives an Advanced reloading Video.
RANGE LOCATION: The Ridgecrest Desert Gun Range Shooting Facility is located 6 miles south of Inyokern on Brown Road, at the corner of Brown Road and Wiknich Road.
Toilet facilities are available at the range, but no water is available so plan accordingly.
SAFETY: Empty chamber indicator (ECI) are required to be used at all times except during the preparation time and firing. Those not having an ECI may purchase one at the registration table for $1.00 each.
PRACTICE FIRING: The range will be available the day before for those individuals wishing to practice.
NOTE: Due to safety considerations, the match will be cancelled if sustained winds of 25mph or higher are encountered.
CONTACT INFORMATION:
Geoff Campbell, (760)977-7275
~~~
600 Yard Practice - Third Saturday each month
START TIME IS 9 AM
The RGRA in Ridgecrest offers a monthly PRACTICE long range shooting training session. Range masters will provide tips on long range shooting techniques if asked.
Some ranges try and simulate long range shooting by using smaller targets at short ranges.
However, no simulations can present all the real conditions to actually shoot 600 yards as the Ridgecrest Gun Range provides.
Range Fee $5.00
Who may shoot:
You do not have to be a RGRA member to participate. (Non-members are required to sign liability release) Target Pullers:
Shooters must supply their own target pullers or hopefully team up with another shooter.
RECOMMENDED EQUIPMENT:
Hearing Protection (Required)
Impact resistant glasses (Required)
Drinking water, Sun screen
Spotting Scope, Rifle/Ammunition, Rest, Bipod or Sling & Glove, and Rear Sand Bag
Note:There are benchrest benches available along with prone shooting.
CONTACT:Geoff Campbell (760)977-7275
~~~
THE ROBBER'S ROOST VIGILANTES
Competitions are the First and third Saturdays of the month.
NOTE: WINTER HOURS - Sign ups begin at 8 AM, shooter meeting at 8:45.
Afterwards, we occasionally meet for lunch and rehashing the stages.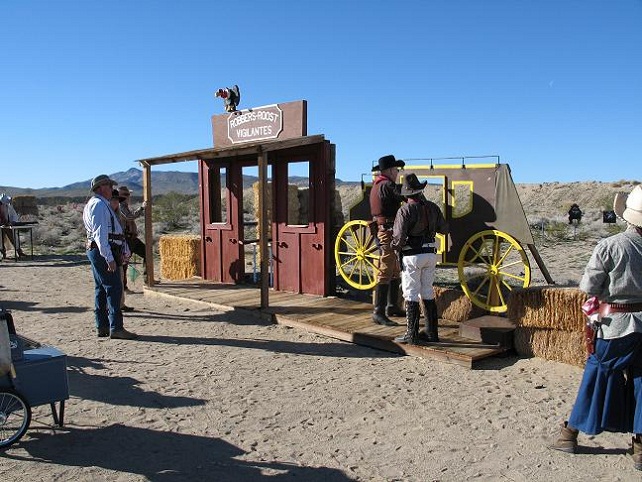 ~~~
THE SIERRA DESERT GUN CLUB
We usually shoot every Saturday.